Jeremy and Ashley get Married- A Family Affair!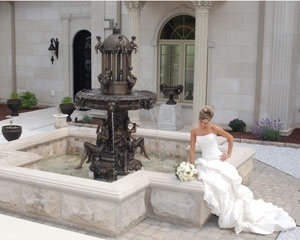 Contributed By our Friend Jenn Robert Photography. 
Ashley Eisenhower and my brother Jeremy DeFiore were married this past weekend!  Their ceremony took place in Reading at Holy Guardian Angels RC Church and then celebrated at The Inn at Reading.   Amanda was the lead photographer and Ryan assisted her.  I did get to photograph Ashley at her parents home, because I was there with my youngest daughter Claudia, (she the cutie with the brown hair).  Ashley and Jeremy surrounded themselves with family and friends in their bridal party, her sister Holly was the Maid of Honor and Dan, Jeremy's brother was the Best Man, the children were, Claudia(my youngest), my niece Holly and my nephew, Tyler.
The ceremony was a beautiful service, compliment by the churches choir (Ashley is a member), then Amanda did traditional family photographs in the church and of course one with the choir.  From there they when to Grings Mill  for some quick outdoors pictures.  Then we ventured to the Inn at Reading for a wonderful reception.  Dan from Dice Productionz, www.diceproductionz.com, was the dj and he kept the party rocking all night long!   Check out the group picture at the reception, Ashley teaches for Exeter Township School District, the faculty and staff knows how to party!  We all had so much fun Ashley and Jeremy extended it an additional hour!  What a beautiful day!  Jeremy, my baby brother is married now to his beautiful bride, Ashley, welcome to our family!
Congratulations to Ashley and Jeremy DeFiore!  Congratulations to the Greb, Eisenhower and DeFiore families!
"LIKE" us on Facebook!  In several days I will post feature photographs of Dice Productionz and Sherry's Florals!  http://www.facebook.com/photo.php?fbid=179203458809309&set=pu.162806833782305&type=1&theater#!/pages/Jenn-Roberts-Photography/123077191064038
Ashley's flowers were created by Sherry's Lakeside Florals in Sinking Springs, www.sherrysflorals.com
Photography Amanda Smaltz of Jenn Roberts Photography, www.jennrobertsphoto.com
DJ was Dan, owner of Dice Productionz, www.diceproductionz.com
Video was filmed by Phillip Hozza
Lehigh Valley Weddings Featured Specials
No featured Specials