Trycinski/Repsher Reception- July 23rd 2011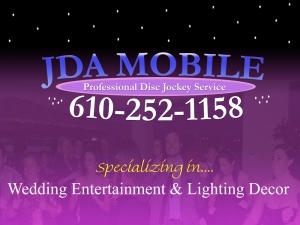 Dan & Emily's reception was at beautiful Barnhouse Village in Bath, PA. the evenings fesitivies had our premier lightscaping design package complete with uplit ice sculpture. Let me tell you, what a group! This club style wedding was just that! We played a variety of music but the guests really seemed to like top 40 and hip hop. We have done multiple weddings for this group of friends and we LOVE them! All star Jarret Brown of WGPA radio did his rendition of "The Humpty Dance" which got the crowd wanting more! The evening ended with "Last Dance" by Donna Summer to send our lovebirds off! Congratulations to both of you!
For more information on our services please visit our website at www.jdamobile.com!
Lehigh Valley Weddings Featured Specials
No featured Specials