Budget Breakdown – what to expect and 5 tips to save
by Danielle Pasternak on 07-20-2011 in Q & A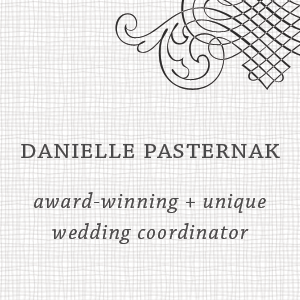 Contributed by our good friend Danielle Pasternak. 
When it comes to determining your budget and how much you want to spend on what, it will depend on what matters most to you. But, this pie chart helps give you a general guide to figure out your base budget. Feel free to tweak yours as necessary.
Ok, so what does this mean? Let's take a $20,000 budget as an example:
Reception/Food (48% of your total budget) = $9,600
Photographer/Videographer (12%) = $2,400
Attire (10%) = $2,000
Music (8%) = $1,600
Flowers (8%) = $1,600
Ceremony (3%) = $600
Stationary (3%) = $600
Gifts (3%) = $600
Rings (3%) = $600
Transportation (2%) = $400
As you can see, a $20k budget may seem like a lot, but it can get eaten up fairly quick. The above is just a sample breakdown and I can't stress enough how important it is to determine what's most important to you. This will help you when it comes to taking from one part of the budget and adding to another.
And five simple ways to save money and help you stretch your budget even more…
Avoid holidays. Flowers, venues, vendors, and transportation services will likely all charge you more.
Use the season. Don't fight your environment or the time of year. If it's winter, use holly. If it's fall, use rustic elements. Stick to the season and you'll save money.
Rent when possible. There are many things in this industry that can be rented instead of purchased. If you don't have the option of renting, look into selling them to the next bride to recoup some cash.
Wed, then celebrate! If possible, choose a place to have your ceremony and reception together. This will save you on time, money and decor ideas.
Give place cards double-duty. Put your place cards to work and make them your favors, too.  Saves time and removes a project from your list of to-do's.
Lehigh Valley Weddings Featured Specials
No featured Specials