The Royal Taylor Wedding!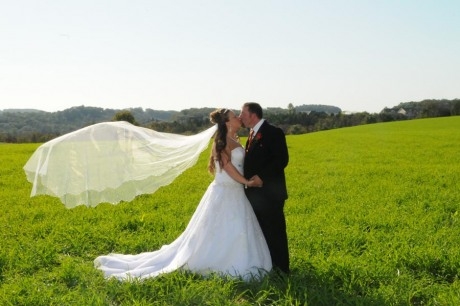 Contributed by Jenn Roberts Photography. 
On Saturday October 8, Laura Heffner and Thomas Taylor were married in New Tripoli.   I met Laura and her brides maids at the Holiday Inn in Fogelsville where the were getting their hair and make-up done.  Barb met up with the guys at Tom and Laura's home.  From the hotel, the girls hopped on a J&J Party Bus to get dressed at the church, Christ's Church at Lowhill.  Once the girls were ready, it was time for the royal event.  The ceremony was beautiful, lots of tears of joy and a little laughter.  It was a beautiful and moving ceremony!
Once the Ceremony was finished, we did our traditional family and bridal party shots inside the church, then we proceed outside to some gorgeous weather and beautiful scenery.  Laura and Tom and their bridal party were wonderful to work with.  We got some great shots and took full advantage of Laura's cathedral length veil.  The sun added some beautiful tones to the early fall sky.  From there we proceed back to the Holiday in for their cocktail hour.
When it was time for the intros, the bridal party, dressed in boas, hats and canes walked into "New York, New York", then did the chorus line.  They danced their first dance, toasts were made, grace was said and dinner was severed.  After dinner, Tony from Holiday Sounds rocked their reception.  The dance floor was full all night long.  Laura, Tom and their guests know how to PARTY!  Barb and I had a wonderful time!  It was a beautiful wedding and an evening to remember.
Thank you to the bridal party who gets credit for this blogs title, we heard the Taylor Royal Wedding in several toasts!  Thank you Laura and Tom for allowing us to capture your memories on your royal wedding day, it was a pleasure!
Congratulations to Mr and Mrs. Thomas Taylor!  Your two were the best to work with!  Congratulations to their families, you have raised two wonderful people who were truly ment for one another.  It was a beautiful day!
Wedding vendors who helped make Laura and Thomas wedding memorable:
Jenn Roberts Photography- www.jennrobertsphoto.com
Holiday Sound- 610-264-2345
Paisley Peacock Florist- http://www.paisleypeacockfloralstudio.com/
Village Bake Shop- http://villageweddingcakes.com/
J&J Luxury Transportation- http://jjtransportation.com/
Lehigh Valley Weddings Featured Specials
No featured Specials