Melissa & Ronnie Winning Wedding Day!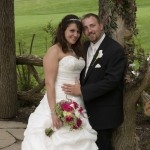 Contributed by our friends at  Reflections Creative Photography
Melissa Loukas & Ronnie Yeisley shared their Wedding Vows this past Sunday at the outdoor gazebo at Riverview Country Club, Easton, PA, (www.riverviewcountryclub.com).  We started at the Bride's residence where she and her Bridesmaid's were getting ready.  We then caught up with Groom and his Ushers at Riverview for a few photos before the girls arrived for what we call "1st look".  As we were doing all the bridal party photos prior to the actual ceremony, we still wanted to allow Melissa & Ronnie the opportunity to have that first look at each other, which normally happens as the bride makes her way down the isle, to her waiting groom.  It was a very touching moment with their bridal party all around them.  Despite the overcast day, we were able to get some great shots of the couple on the grounds of Riverview.  The Celebrant for their Wedding as Lois Heckman, (www.loisheckman.com),who always offers such a personal exchange of vows for the couple and their family and guests.  Flowers were designed by Phoebe Floral, (www.phoebefloral.com); and as always, they were stunning. Pete Newton owner of "Taylored To You Video Productions", (www.tailoredtoyouvideo.com) provided the video services and is always a pleasure to work along side.  The cake was provided by Granny Schmidt's, (www.grannyschmidts.com) and of course it tasted as good as it looked.  Rockin' Ramaley, (www.rockinramaley.com), provided the entertainment.  Kevin and his crew kept the floor jumpin' all night long.  And let us not forget Riverview Country Club, (www.riverviewcountryclub.com); Jenna and her staff provided a beautiful venue, great service and wonderful food for the guests and Wedding Party.  This location is one of our favorite locations to work and photograph.  Finally, there was the B&G and their Wedding Party!  They were one of the most up beat groups we have had the pleasure to work with in a while.  Melissa looked beautiful and as Linda said; Ronnie was just so cute!  It was a great Wedding Day!!
If you would like to see their images, go to our web-site
Lehigh Valley Weddings Featured Specials
No featured Specials