Breeanna & Carl become Mr. & Mrs.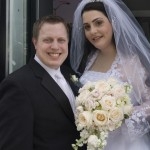 Contributed by our Friends at Reflections Creative Photography
Breeanna & Carl became Mr. & Mrs. Faust last Friday at the Best Western Hotel in Bethlehem, PA. It was a beautiful day and the ceremony was held at the newly installed Gasabo. Flowers were designed by Elysian Fields Speciality Florals, (www.elysianfieldsflorals.com) and as always Dale and his group did a wonderful job creating floral grouping the accented the bridal party and their venue perfectly.  The reception was held at the Hanover Grande Ballroom at the Best Western, (www.hanovergrandeballroom.com), Lori Delaney, Wedding Specialist and her staff were picture perfect as always.  Entertainment was provided by Freddie Frederick Jr of Freddie Frederick Jr. Entertainment, (www.freddiefrederickjrentertainment.com).  As always FFJ kept the dance floor full all night long, but we never expect anything less of him!  FFJ also provided the uplighting for the venue as well, which gave it a special WOW!  The couples cake was created by Granny Schmidt's, Bakery, (www.grannyschmidts.com) and was wonderful as always.  Breeanna & Carl were wonderful to work with and we wish them the best in their lives together.
If you would like to see their images, go to our web-site
www.reflectionscreativephotography.com
Choose – Client Proof
Lehigh Valley Weddings Featured Specials
No featured Specials