Featured Vendor Lauren Bennett
by Lehigh Valley Wedding on 08-08-2013 in Vendors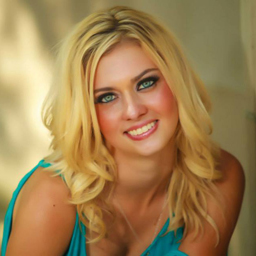 Our Featured Lehigh Valley Wedding Vendor is Make Up Artist Lauren Bennett.  For the past two years Lauren has been helping brides and the ladies in their wedding party transform from beautiful to stunning with her make up artistry and is one of the fastest growing wedding professionals in the Lehigh Valley.  We had the chance to candidly interview Lauren recently and we are glad to share parts of that interview with our readers.   
Can you tell us a little about Lauren's Makeup Designs?
Lauren's Makeup Designs understands that no two faces are alike and that each and every bride has her own version of what she wants to look like on her wedding day. We are a 100% hands-on studio and are on location the day of your wedding. We offer everything from airbrush makeup to lashes to enhance the bride's look in photographs.
Lauren's Makeup Designs has a reputation in the industry for being reliable, consistent and "brilliant", making our team one of the most trusted makeup artists in the Lehigh Valley. With my name and reputation on the line, I hold my staff to the highest standards and personally train each new team member for 4 months. I also require that team members are all certified through Temptu Pro in NYC.
How long have you been in business?
I have been in business for 2 years as of April 24th. I started out with 50 weddings the first year and am now on track to hit 200 weddings for this year! There is a new package I'm rolling out for 2014 called "The VIP Package", where brides can request me personally as the only artist on her wedding day. This package will be available on a first-come, first-serve basis.
Do you work alone or do you have others that work with you?
I have 3 girls who work for me: Lauren, Lindsay and Nicole. They are all certified and highly skilled.
Do you travel or do brides come to you on their wedding day?
Brides come to our studio location for their trials and airbrush tanning sessions, but we are on location for all weddings. During the bridal trial sessions we get to know your likes and dislikes so that we can create a look which is perfectly tailored to you on your most special day. Our saying is, "If you are confident; you are beautiful!" We want to create a look that is exactly what you want, yet not overdone to the point that your guests don't recognize you.
Do you take care of the bridal party and the mothers also?
We specialize in doing entire bridal parties. We like to make the morning the ultimate girls' day with a fun, party atmosphere. After all, it is the bride's day and we want to get her pumped and ready for all the events following the beauty process!!
What products or product lines do you use or suggest to your brides?
Lauren's Makeup Designs uses all high end, hypoallergenic products, including: MAC Cosmetics, Yves Saint Laurent, Temptu (airbrush), Mehron and many others. We are very thorough in sanitizing our products, including our application process.
What makes Lauren's Makeup Designs different or stand out in your field?
There are a lot of options available for your wedding make up, from do-it-yourself to visiting a cosmetic counter at a department store. The reason so many local brides choose us is because they want a highly skilled makeup artist who knows how make up interacts with various skin types, lighting and photography styles. They want to feel pampered and special on their big day, and they want it to be easy. Choosing Lauren's Makeup Designs means they eliminate the risks of looking either garish or washed out in their pictures, and they eliminate having to run around to another appointment on an already busy day that should be relaxing and fun. It's very simple really, we stand out because we make it all about the bride!
One can't help but to notice that you have been very successful over the last two years. What things can you attribute this success to?
Honestly, I think the success comes from the passion I have for what I do and that I don't think of it as a "job." I absolutely love going to work every day and making people feel confident about who they are as a person. I always say, "How old you are is your business, but how young you look and feel is our business!"
Can you give an example of what the entire process is like (for a bride) from the time she first calls you for your service?
Typically, a bride will inquire about our services and we'll discuss the services she would like and pricing, as well as the wedding date and time. We'll schedule a makeup trial where the bride will visit our studio and we'll exchange ideas. She'll tell us about her wedding (colors, style, location, etc) and what she envisions for her make up. Then we'll play! We'll apply makeup and the bride will provide feedback about what she likes and doesn't like. We'll adjust the look until we achieve the outcome that makes the bride light up! If the bride has chosen services besides wedding day make up, such as tanning or lash dip, we'll schedule those appointments. On the day of her wedding, we'll arrive at the chosen location on time and armed with everything we need to pamper and prepare the bride and her bridal party for the big day!
What "Make Up Artist" advice do you have for brides for their wedding day.
My advice to brides on their wedding day is, "Breathe!"
Leading up to your wedding day, brides should be sure to drink plenty of water, preferably 6-8 glasses of water a day. It's not just about taking care of what's on the outside, but also giving your body what it needs on the inside. Also, it's important to get your eyebrows waxed 7-10 days before your wedding and pluck them to keep the look and shape. Makeup or airbrush will not stick to freshly waxed skin!
You have a few real exciting events that will be happening in your life in the coming year. First, we hear that you are going to be moving your location. Can you tell us when and where to?
I am beyond excited to announce Lauren's Makeup Designs has expanded and has a new location! The address is 5036 Hamilton Boulevard, Apartment 1, Allentown PA 18106. We will officially be moved in by end of July. The new location is more centrally located to all major highways to better serve all our clients.
Second, and this is the most exciting, you are going to get married!! Can you tell us all about it?
Yes, finally!! We have set our date for 7/4/2014 at Riverview Country Club in Easton. It has been so exciting to begin planning our big day! We all know I am a very colorful person, after all I am a makeup artist! With that being said, the color scheme is royal blue, lime green, hot pink and orange. Trust me, it will look amazing! I originally envisioned a beach wedding and instead I will bring the tropics to Easton!
Now you are also the bride and are going to be a customer of wedding vendors. What has been the best or most exciting part of finding your wedding vendors?
Being on the other side of the table as a bride has been eye- opening. I now understand how stressful and overwhelming it can be for a bride to plan the biggest event of her life. I do have the advantage of having worked with so many local vendors. As such, it was fairly easy for me to select and book the big vendors. Now I have a year or so to focus on the smaller, more detailed things.
What "Bride advice" can you give to us about searching for wedding vendors that you didn't know before becoming a bride?
The best "bride advice" I can give a bride is to be true to yourself and be honest about what you are looking for. Interview a few more people than just one in each category. Make sure you explain the way you imagined this day from the time you were a little girl until the moment you say "I DO." Don't settle for anything less than the best! You deserve it!!
What is the best way our brides reach you to find out more about you?
There is a few ways to contact me:
Email: Info@laurensmakeupdesigns.com
Website: www.laurensmakeupdesigns.com
Phone: 610-442-7683
Facebook: https://www.facebook.com/pages/Laurens-Makeup-Designs
Profile Photo by John Wirick Photography
Lehigh Valley Weddings Featured Specials
No featured Specials