Terri and Drew's Plattner's Wonderful Wedding! Check out this Bridal Party!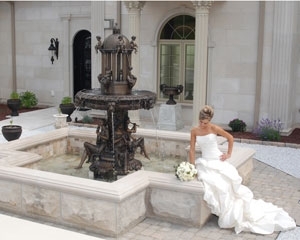 On Saturday, February 18, 2012 Terri Sproul and Andrew Plattner were married at Valley Forge Military Academy.  What a beautiful day for the middle of winter!  I met up with Terri at the Double Tree in King of Prussia where they were preparing for the wedding.  From the start of our coverage we knew we walked into a party.  This was a fun group and I give Terri a  great big hand for organizing the 30+ people in her wedding party, and yes I said 30.  Terri had 13 of her closest friends stand up for her and Drew had 15 of his.  This was my largest bridal party EVER!  They were a fun bunch, we felt like we blended right in!
At the Double Tree, Lauren and I photographed all the prebridal and pregroom shots is separate suites, then Terri and Drew decided to do a "first look."  Drew enter a quiet suite to the smiling face of his gorgeous bride!  After several more photographs were taken, we proceeded down to the lobby where the bridal party and parents boarded a school bus, (very fitting considering Terri is a teacher.)  They proceeded to Valley Forge Military Academy.  From there we did all the outdoor photographs with the bridal party and of course, just the bride and groom.  Then the ceremony took place, what a beautiful chapel!  After the tearful vows were said, the rings were placed and the kiss was finished, a bagpiper entered the chapel to lead the bride and groom to their reception at Mellon Hall!  Terri and Drew's wedding was just full of surprises!
The reception was beautiful!  Terri, Drew and their families had every detail in place!  There were 2 wine bottles on every table, one bottle had the table number on and the other had the menu.  Their favors were a red bracelet and a donation to support The American Heart Foundation.  Terri and Drew had there 1st dance choreographed, then they honored there parents with a dance then asked the crowd to join them in a pre dinner dance!  Right there and then we knew, this was a parting crowd!  After dinner their guest danced to music personally picked by the couple.  Every one had a wonderful time!  This was my first wedding of the year and it looks like my year is taking off in full blast!  Can't wait till the next wedding!
Congratulations to Mr. and Mrs. Andrew Plattner, thank you for letting us take part in you most special day!  Congratulations to the Sproul and Plattner families!  Terri and Drew are wonderful people with wonderful families and friends.  Lauren and I had a blast!
The vendors who helped make this wedding memorable were:
Jenn Roberts Photography- www.jennrobertsphoto.com
Christina's Catering- www.christinascatering.com
The Bouquet- www.thebouquet.org
Hair by Amanda D'Andrea
Make-up by Ruthie's Eyes
Cake by Master's Baker- www.mastersbaker.com
Dj and Video by B&B Light and Sound – www.b-n-bdiscjockeys.com
Transportation by Cluster's Garage – www.clustersgarage.com
Submitted by Jenn Roberts Photogrpahy
Lehigh Valley Weddings Featured Specials
No featured Specials