Kerianne and Kristopher Share Their Love at The Shawnee Inn! Marista and Tavis's Celebrate Love Greek Style!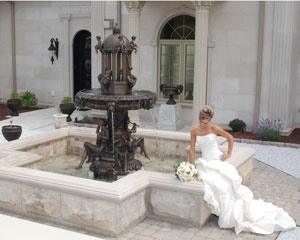 Contributed by our good friend Jenn Roberts Photography. 
On Saturday the 25th of June, Kerianne Werner married the love of her life Kristopher Hicks.  We started out in Pen Argyl, I got to photographs Kerianne's pre-wedding photographs and Amanda went to Kristopher's parents home to capture the memories made there.  They got married at St. Elizabeth of Hungary Catholic Church, with a full catholic mass, a very touching ceremony.   After all the formal photographs were finished, we stopped by a small waterfall for some gorgeous photographs.  From there we ventured on to the Shawnee Inn to celebrate!  What a great reception, after the dinner was finished, the party was non-stop, DJ Mike Kresch kept everyone moving on the dance floor.  A fun time was had by all!
A big thank you to the Werner and Hicks families for allowing us to be part of such a special day in yours and your children's lives and congratulations!
Congratulations, Kristopher and Kerianne Hicks, your wedding was beautiful.  Happy Honeymooning!
Kerianne and Kristopher accented their wedding with purple and shades of pinks.  Their flowers where created by JC Bloom Designs, in Roseto, PA .  Take note of the studded "H" is Kerianne's boquet, it added such a personal touch.  Their limo was from Simply Smooth, http://simplysmooth.com/limousines/ and Mike Kresch of Gruvin Enterprises, http://www.gruvin.com uplit and dj the reception.  Please visit our website at, www.jennrobertsphoto.com and please "LIKE" us on facebook, there will be some room decor shots in our Shawnee Album, http://www.facebook.com/pages/Jenn-Roberts-Photography/123077191064038?ref=ts#!/pages/Jenn-Roberts-Photography/123077191064038
On Sunday the 26th of June, Barb and I got to photograph Marista Lahanas and Tavis Grotenhuis wedding.  We started at Marista parents home where we got to meet her parents and bridesmaids and do some before the ceremony shooting.   Then we left for St. Nicholas Greek Orthodox Church in Bethlehem for a traditional Greek ceremony.  I love traditional ethnic ceremonies, they are so beautiful to witness.  From St. Nicholas's we went to the Bethlehem Rose garden for some quick, but beautiful summer photographs, from there we ended up at Marista and Tavis wedding reception at the Northampton Community Center.  After the 1st dance, prayers, toast and cake cutting we sat down for a great dinner!  After dinner, came the Father-Daughter dance, then the party really began with the traditional Greek dance preformed by Atlantis of Philadelphia.  The night proceeded with Atlantis performing music from the 50′s to the present, along with traditional Greek Music.  The band kept the crowd moving, they played and sang all night long, with no break!  Barb and I had a blast.  Another huge thank you to the Lahanas and Grotenhuis Family!
Congratulations to Marista and Tavis Grotenhuis!  Have a wonderful honeymoon!
Marista and Tavis wedding colors were a shade of Tiffany blue accented in white.  Her gorgeous flowers were done by her aunt.  Their Limo was from Limo Today, http://www.limotoday.com/ and Atlantis of Philadelphia, www.atlantisofpa.com was the band. (One of the best I've seen at a wedding).  Please visit our website at, www.jennrobertsphoto.com.
Lehigh Valley Weddings Featured Specials
No featured Specials