VIP Vacations Inc.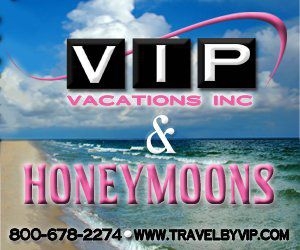 VIP Vacations™ believes that your honeymoon should be the most romantic experience you will ever have. To make sure that it is, VIP has become the experts in the honeymoon business. Our qualifications as destination wedding specialists, Preferred Sandals Agents, Master Secrets Resorts Agency, Karisma GI Vacation Specialists, Disney College of Knowledge Grad's assure you that your honeymoon is in the hands of the professionals. What this means for you is that with all the stress a bride has to deal with, you can relax about the honeymoon!
Sandals Resorts Promotions and Sales: VIP Vacations Inc.™ has Sandals Resorts on Sale and we also give each honeymooner traveling to Sandals the following:

Upon arrival, bottle of chilled sparkling wine elegantly arranged on ice bucket.
On first night, turndown service will include flower petals on your bed.
On one morning, you'll receive a breakfast in bed served with fresh flowers.
PLUS we will give you $50.00 air credit towards your honeymoon with all the major air carriers.
Couples Resorts: VIP Vacations Inc.™ loves Couples Resorts. Located in lovely Jamaica, all 4 of the Couples Resorts are fully all inclusive PLUS you receive all of your excursions for free too! Couples Resorts Sales are going on now with VIP Vacations Inc.™
Contact VIP Vacations Inc. at 800-678-2274 or email Jennifer@travelbyvip.com for more honeymoon package deals.
Although VIP Vacations is a nationally award winning travel agency focusing on destination weddings and honeymoons, we are also very proud of our local ties to the best honeymoon and destination wedding vendors. VIP is proud to be the only travel agent featured on "Love Your Event", a Lehigh Valley wedding/special events magazine and website.

VIP is also proud to be a part of Dream Weddings of Pennsylvania. Dream Weddings is a weekly TV show that highlights a different wedding couple and their preparations in planning their big day. Dream Weddings of Lancaster PA, showcases the best wedding vendors in the Central PA area.
I was so happy with my destination wedding!
, 01-20-2013 08:45AM
I was so happy with my destination wedding! I would recommend having a destination wedding again. Going to St. Thomas and having the wedding at Sugar Bay was perfect for me. They were really nice and the resort was clean. It was a great place for families. VIP Vacations was very accommodating and extremely helpful at all times. I would absolutely recommend using travel VIP vacations. Not only were they professional the whole time, they made the whole wedding process go as smoothly as possible. Lauren, you were a great agent and I would definitely use you again for any other vacations that I will have to come. I think everything went perfect.
Please give our thanks to everyone at VIP!
, 01-20-2013 08:45AM
Everything was wonderful! Thank you so much for the beautiful gift and cards! We love it and can't wait to put a picture in it! Please give our thanks to everyone at VIP!
I have to say, VIP is the BEST travel agency in the world.
, 01-20-2013 08:44AM
We arrived at Beaches Turks & Caicos last week having booked the least expensive room in the Caribbean village. We were very pleasantly surprised to see that we had been upgraded to pretty much the most expensive room in the entire resort: A FULL OCEAN VIEW one bed-room suite in the Italian Village. Of course I give 100% credit to Jennifer Doncsecz who booked our vacation for us. We had a great time! Where can I post more reviews about you??? People need to know that you offer an incredible service that makes a vacation so much more special. Thank you so much for everything you did for us. We are very grateful!
Lehigh Valley Weddings Featured Specials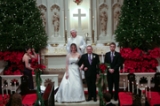 Complimentary engagement photos & Guest Book
Book an 8 hour wedding and receive complimentary Guest Book which includes