Rockin' Photobooths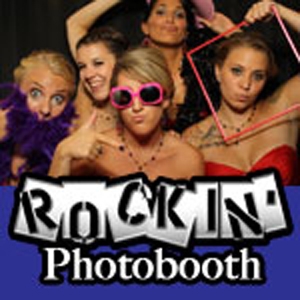 Rockin' Photobooth is an extension of Rockin' Ramaley. Premiering in 2010, Rockin' Photobooth is the first entertainment company that can also capture the excitement and memories of your event in real time. Our sleek photobooth is designed to blend in and compliment your event while adding hours of entertainment for your guests. We use Canon DSLR imaging for the highest quality and a Sony dy-sublimation printer to ensure your photo strip is of the highest quality. Our strips always print out two at a time; so you can keep one for your guest book while your guest can keep theirs as a party favor. We have the ability to personalize your photo strips to include names, photos, monogram, company logo and event date. Your guests can even personalize their strip to print in color or black & white. Your photo favors print in less than 15 seconds. Our photobooth can fit from 1 to 20 guests. Rockin' Photobooth is the perfect addition to any celebration.
Nestle Waters Corporation ~ 2010 Year End Celebration Friday, January 14, 2011 & Saturday, January 15, 2011
, 01-28-2011 04:20AM
We just wanted to tell you how amazing you made everything! It was our best party yet! Getting people on the dance floor early was a great idea and kept the night flowing! The dance floor, the lights, the music - all just incredible! Your dancers were awesome and I got compliments all night on the three of them! People loved the photobooth and I can't wait to see the disc of pics.

Thank you so much for the special attention regarding Brad's cake! Looking forward to working with you again soon!
Eric & Robin Forti ~ Wedding
, 01-17-2011 06:58AM
Communication with Kevin was outstanding. He went out of his way to drive to camp on two occasions and was so patient and helpful through out the process. The entire experience from start to finish was overwhelmingly positive and professional. Kevin went out of his way to educate us on the different options and even after we signed a contract, he made an extra trip an hour away to the event site. Thanks for everything!
T. Rotzell ~ Labor Day Celebration
, 01-17-2011 06:58AM
Open Air booth was so much fun at our picnic. The kids enjoyed taking funny pictures and the adults felt like kids again! It was a good way to end the summer.
Lehigh Valley Weddings Featured Specials
No featured Specials