Memories Unlimited Videos, Inc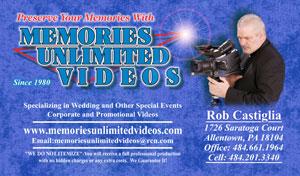 Memories Unlimited Videos is located in the Lehigh Valley serving the tri-state area. We are the only video company that "DOES NOT ITEMIZE", you get it all for one lower price then the others, we guarentee it. We shoot in HIGH END DIGITAL format and with TWO and sometimes with three cameras. We also provide two videography specialists with no extra cost to you. Call us today and save.
Memories Unlimited
, 06-21-2012 09:11AM
When we were planning our Wedding we received a lot of advice from our family and friends. One of the things so many people told us was, "Make sure you have a videographer" and there were others who said, "What we regret most is not having a videographer". So there was no question we had to find the BEST... and we did!

Rob, and his team at Memories Unlimited, went above and beyond to capture all the special moments of our day. We spoke with Rob a couple of times prior to our Wedding Day allowing us to discuss any concerns or specific requests we had.

Less than 2 months after our Wedding Day we received an HD DVD to review. We were able to request any changes and make corrections. Those changes were made promptly and now we have a beautiful finished product that we will treasure for years to come.

We highly recommend Memories Unlimited. You won't be disappointed!
MUV IS AWESOME!
, 03-10-2012 07:44PM
Rob Castiglia and staff from Memories Unlimited Videos, Inc.
Our sincerest thanks to you for capturing the magic and beauty of our special day. You are truly talented and dedicated to doing great work.
The moment of our dreams, the romance of our love, and the joy of our family and friends are captured by your creative artistry.
The video is wonderful! We cannot stop watching it and our family and friends love you too! You managed to maneuver through our large number of guests and get every shot with great detail. You did an awesome job!
You have given us the chance to relive our special moments and feel the exact love, excitement, and happiness as we did on our wedding day.
That is so priceless and we are so grateful for you. Many thanks to you and your staff.

With all our love,
Mr. and Mrs. Bahij and Lana Hadid
GREAT JOB ROB!!
, 06-30-2011 09:11AM
Hi Rob,
Got the videos today, thank you so much again for sending them. We really enjoyed working with your company and I'm so glad we chose you for our special day! Best wishes,
Michell & Kevin Lehr
2011
Lehigh Valley Weddings Featured Specials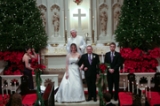 Complimentary engagement photos & Guest Book
Book an 8 hour wedding and receive complimentary Guest Book which includes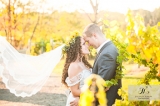 Referral Bonus
Refer a friend, family member, colleague, or complete stranger to Juliana