Gruvin Enterprises Professional Disc Jockeys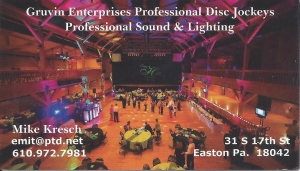 With Over 27 years of service and recomended by a large number of Lehigh Valley wedding venues. Gruvin Enterprises offers you a hands-on, customized wedding reception. We play the music you want to hear; there is no set format. You will have a minimum of two (2) consultations prior to your wedding day to ensure that all aspects of your day are to your liking. A video presentation is available upon request, so you can see and hear some of the exciting events that can happen at your wedding! Gruvin' Enterprises will professionally MC your reception. With over 27 years of experience, we know the perfect finish for all of the events you choose to take place during your special day. We will cater to your special needs and situations to ensure your day flows perfectly. You as the Bride & Groom are the stars of the wedding! If you could only choose three words to describe your dream reception... WHAT 3 WORDS would you choose? If one of your top choices was...FUN ...then Gruvin Enterprises are the Disc Jockeys for your reception. " REMEBER WHEN IT COMES TO WEDDING RECEPTIONS THERE ARE NO DO OVERS". We offer a large selection of uplighting options to make your reception venue stand out and add something special to your planning. We also offer a complete on-line planning and music selection system to help you in the planning process. Because Gruvin Enterprises has performed at hundreds of weddings throughout our 27 years of experience we have spoken to a many Brides & Grooms and Parents each and every day who are searching for the right entertainment for their wedding. Most of our potential customers have never hired a DJ before and don't know where to start. Unfortunately with this lack of experience the main question we typically get is "how much do you charge?" I understand why people ask this question as most people are spending a large amount of money on their wedding (and you do have to set a budget for any type of event) but the one thing I advise all couples on is although cost is an important factor, it should not be the determining factor in choosing a DJ, as a DJ can either make or break a reception. Although budgets will vary, the average cost of a wedding in Pennsylvania is over $20,000. When you look at the big picture a Disc Jockey usually only accounts for about 5% of your wedding budget (which is small compared to how important the entertainment is for a wedding reception). In addition the DJ is one of your less expensive wedding vendors (yes it is nice to arrive in a $1800 stretch Limo but it won't have any impact on the success of your reception). Most people agree there are two things that guests remember about a wedding. Did we have fun? and Did we have a good meal? Give it 5 years and most guests won't even remember what they ate at your reception but they WILL remember if they had a good time or not. The Right Disc Jockey most be able to appeal to not only the Bride & Groom but they most appeal to their guests. When hiring Gruvin Enterprises you not only get the appeal but you receive professionalism and many years of experience. So here are some facts to think about when choosing one of the most important vendors for your wedding reception. Proper Lighting: A Wedding Reception is a feeling and those feelings should be warm ,inviting and exciting. Proper lighting effects can make this happen. The lights that are added to the backdrop(Uplighting) can be used to set what type of mood the wedding will have. A great choice to go with in this situation is to bring down the house lights at the reception and allow the backdrop lighting(Uplighting) to put somewhat of a spotlight or glow on the proceedings main event. The lighting can control the mood of the wedding, so after the deep, romantic moment of the actual ceremony is over, brighter and more colorful lighting can be used at the reception. This concept has taken place many times at many weddings over the years, and has been proven to create the right moods and atmosphere for each part of the day. There does not need to be any worries about what specific ways the lighting should be used in the backdrop because each wedding needs to have its own unique flavor. With a lighting design coming from the Bride & Groom, the atmosphere will be sure to be a unique one for everyone involved. The backdrop of the wedding is the focal point for the event because that is what will be behind the bride and groom throughout the entire reception. It needs to be able to perfectly captivate the moment and let it be seen for many years to come through pictures and videos. Photographs taken of the Bride & Groom with the proper lighting behind them can wonderfully enhance there wedding album for years. The backdrop was not just lights people see for one night at a event, they are part of the photographed memories forever.
Photographer
, 01-25-2012 10:15PM
I had the pleasure of working with Mike and one of his amazing assistants at a wedding recently. He communicated with me the whole entire time and made sure that I was prepared for every important shot! His professionalism and eagerness to please the couple was evident in his work! It was a great experience working with such talent!
Deb Hochman _ Wilson Area High School
, 06-15-2011 11:11PM
Mike and the gang,

Thank you so much for all of your generosity and kindness that you offered to us on Friday night at the prom. Mike, you were quick to call in the reinforcements and to jump in setting tables. I thought that you could not top your great music performance, but your kindness truly did. In addition, your family and your co-workers offered their time and assistance for my kids - I cannot express how much this meant to me and my kids that you would all step foward to do us this huge favor. All of you truly are the epitome of professionalism and compassion. I look forward to continuing to work with you in the future. Again, although I feel it does not compate to all that you did - thank you!

Deb Hockman
tracy wigg
, 07-07-2010 12:38AM
We have used Gruvin for multiple events and he has been a true professional every time. He knows how to keep the party going and always seems to play the right music. His lighting is state of the art and rest add a great touch to our event
Lehigh Valley Weddings Featured Specials
No featured Specials