DPNAK Weddings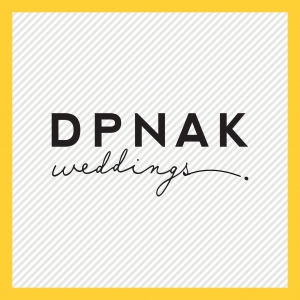 5
star(s) from
14
Reviews
You're getting married. That's awesome.You're planning the biggest event of your life and somehow are expected to just know everything about planning a wedding, all while looking glamorous and glowing. That's slightly less awesome. In fact, it's terrifying, isn't it?
DPNAK couples all have something in common: they want to enjoy their wedding and trust in their wedding coordinator to bring all of their hard work and plans to life. Chances are, you're looking for that, too. 
We are a certified and award-winning wedding coordination agency and will customize your experience to bring you the help you need and services that you can truly benefit from. Whether you need some help tying the ends together or a little bit more help along the way, we're happy to help you.

Services always include unlimited email/phone correspondence with quick response times, emergency kit bag access, coordination of rehearsal, ceremony and reception events (as needed), access to your own online area full of tools to organize and discuss your event, and a custom timeline and itinerary. Other services can include personalized vendor recommendations (and exclusive discounts), mood board creation, brainstorming sessions, weddng party timeline, budget development and payment tracking, guest list RSVP management, and more.
If you're planning a wedding in the NEPA, Lehigh Valley, Philadelphia or surrounding area, let's chat. 
- - - - - - - - - - - - - - - - - - - - - - - - - - - - - - -
Danielle and her team have been honored to receive awards such as WeddingWire's Couples' Choice Award (2011-2015), OneWed and WeddingWire Rated (2010-2015), OneWed's Best Of/Golden Feather Award), and Electric City's Best Wedding Planner in the 570.
The DPNAK team has been proudly featured in publications such as The Knot, Contemporary Bride, Northeast Business Journal and Bridal Guide. They have also been spotted on national blogs such as Style Me Pretty, 100 Lake Cake, Green Wedding Shoes, Ruffled Blog, Bridal Musings, Heart Love Weddings, Elizabeth Anne Designs and more.
Bride
, 11-17-2015 08:20PM
Danielle is hands-down the most professional and incredible wedding planner out there! To say she is organized and thorough is an understatement. We used her for our day-of coordinator which meant our work with her started three months prior to our wedding date. Within those three months she completely tied up every loose end we had left and finalized all of the remaining details. All of our vendors commented on how pleasant and great she was to work with. She blew every expectation I had for hiring a wedding planner!

Both of us wanted to try as hard as we could to be a guest at our own wedding. Danielle allowed us to do just that. She dealt with any of the issues that came up throughout the day, making the entire day seamless. I've been a part of many weddings and have never experienced such organization. Everything flowed perfectly and we were on time (actually ahead of time) for every part of the day.

To say she made our day perfect would be an understatement. We cannot thank her enough for all of the hard work she put into our day. It was absolutely amazing and we were able to enjoy every part of it because of her. You have to work with Danielle, she's incredible at what she does!
Wedding Date: 10-31-2015
Wedding Location: Bear Creek Mountain Resort
Best Decision We Made
, 10-27-2015 09:06AM
Selecting DPNAK to plan their wedding is, in my experienced opinion, the best choice a couple can make to ensure their event's success. Months in advance we were set as ease knowing that all of our vendors came from DPNAK's "recommended" list. We were confident our florist, DJ, caterer, etc. would fulfill their end of the contract in order to receive the coveted DPNAK blessing. Danielle personally goes far beyond any expectations the day of the wedding, managing the timeline, guests, wedding party, transportation, and vendors with superhuman efficiency. Danielle has the ability to move mountains with a feather's touch, and handles all the aspects the day of the event with that poise. She asks questions we did not think to consider, provides back-ups plan when the inevitable bad weather occurs, and hires an invisible but super effective team to help with all wedding day aspects. Her planning and triple-checking leading up to the wedding makes her invaluable, while her stewardship of the rehearsal process helps everyone to understand their role without stepping on anyone's toes or egos. Danielle's experience, positive energy, and knowledge not only guaranteed our wedding's success, but did so with the very little personal stress on our part. Danielle was also very personal, approachable, and available during our year long engagement. We did not hesitate to ask her any questions, regardless of their minuteness or ill-timeliness, as that was the tone she set. She always responded promptly, and in such a way to soothe potential concerns. She maintained that helpful but driven, knowledgeable yet fun-loving demeanor throughout the 14 months we worked with her and particularly during wedding week. It was clear to both of us that the DPNAK team wanted nothing more than our wedding to be the day we dreamed it could be. Hiring her was the smartest move I made since popping the question, and I plan to share that with anyone planning a wedding!
Wedding Date: 10-04-2015
Wedding Location: Friedman Farms
I Don't Do Reviews...
, 06-04-2014 03:11PM
...but my experience with Danielle warrants one. Danielle is the consummate professional. I did not know it was possible for one person to be this organized. It's difficult to imagine someone caring more about your own wedding than you, but I can assure you that she will have a more intimate knowledge of the details of your big day than anyone. She proved to be an invaluable asset during the entire course of planning and on the wedding day. Her warm personality and sense of humor were just a bonus. Sure, you can get married without her. But I certainly wouldn't recommend it.
Lehigh Valley Weddings Featured Specials
No featured Specials