Lehigh Valley Wedding Bridal Shows
Lehigh Valley Weddings and Bridal Shows
Lehigh Valley Weddings and Local Bridal Shows for Lehigh Valley Brides and Grooms. We allow all bridal show producers to list their event here as a service to our brides and to our vendors. Feel free to contact us for details.
Lehigh Valley Weddings and Bridal Shows Results
453 Northampton Street
Easton, PA 18042
Exquisite Bride Magazine is pleased to bring you the 2nd Annual State Theatre Wedding Expo on Sunday, February 12th, 2017 from 1-4pm.
1100 Country Club Rd
West Chester, PA 19382
At a Y.L.S. Bridal Expo you'll find the businesses you're looking for that will help make your wedding day just as perfect as you envision. The Y.L.S
7081 Bell Gate Road
Coopersburg, PA 18036
The Spring's most intimate wedding show at the "All New" Bell Gate Farm in Coopersburg, PA.
124 Goodman Drive
Bethelehem, PA 18015
Lehigh Valley's Largest Winter Bridal Show at Stabler Arena Rauch Fieldhouse - Over 100 exhibits. Last Winter over 1000 people attended this event to
812 W Hamilton Street
Allentown, PA 18101
Escape the chill of Winter on Sunday, February 26, 2017 from 11am until 3pm as Fegley's Allentown Brew Works presents their Annual Bridal Fair &
123 Goodman Drive
Bethlehem, PA 18015
Welcome to the most elegant and dynamic bridal show in the area. You'll see more valuable wedding ideas and opportunities under one roof than ever
3604 Farmersville Rd
Bethlehem, PA 18020
Green Pond Country Club Bridal Show Sunday February 19, 2017 at the Green Pond Country Club 3604 Farmersville Rd Bethlehem, PA. Visit our FREE Bridal

Lehigh Valley Weddings Featured Specials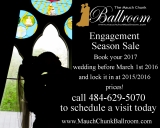 Engagement Season Sale
Book your 2017 Wedding before March 1st and lock it in at 2015/2016 Prices!
January Sale
20% off all purchases* including Wedding Invitations, Save the Dates and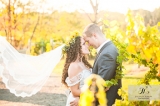 Referral Bonus
Refer a friend, family member, colleague, or complete stranger to Juliana