A Plus DJs - Your Professional DJ Choice!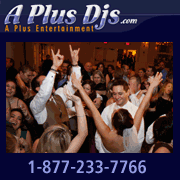 7 Great Reasons to select A+ DJs!
The following 7 things are what we are most complimented on from our customers. Picking a DJ is one of the most important decisions on your special day. You can have the best food, best location, and best outfit but one of the things that people will remember most and whether they had FUN. A+ DJs work hard before, during and after your party to ensure that you and your guests are completely satisfied!
1. Personal Customer Service
We are a small DJ company by choice, we only hire the best DJs with vast experience to entertain your events. All of our weddings are performed by our company President because we require such a high level of excellence for one of the most important days of your life. We provide a toll free number that rings directly to our Presidents cell phone and your calls will always be answered or returned promptly. We also have many online tools that are available 24-7 to help you plan your event. We keep our DJ company small because we don't want to lose focus of the quality customer service that keeps our customers coming back.
2. We give YOU Control
A+ Website software allows our clients to create their own request list. This will ensure that our DJs play the music that you and your guests want to hear. Our music search engine saves your request list by email so you can update and make changes around your busy schedule.
Create Your Party Playlist
3. Online Planning forms
A true DJ does more than just play music. They coordinate your entire wedding quietly and efficiently. We handle all of the announcements, we make sure that the guests, photographers, maitre de, and our clients are on the same page during all of the special ceremonies that will take place during your event.  Our online planning forms also help you give proper consideration to the 'little things' that will take place during your event. Brides always compliment our forms because it helps them focus on the details of their ceremony while they are dealing with many other aspects of planning their wedding.
Click here to Plan your event
4. True DJ Experience
 In today's world of Ipod DJs, it is rare to find DJs with TRUE DJ experience. Someone who has been thoroughly trained in art becoming a true Master of Ceremonies and the other intricacies of a successful DJ. Our President, Cedric Hickerson has been a DJ for more than 15 years. These years include training under some of the most successful DJ companies on the east coast. That is where Cedric learned how to read crowds, provide excellent customer service, and the lost art of 'mixing' which ensures smooth transitions between songs in order to keep that dancefloor moving.  
5. Great Song Selection
 A+ DJs pride themselves on selecting the best music to keep your dancefloor packed without resorting to cheap 'gimmicks'. With over 130,000 hit songs, it's easy for us to find hit songs to keep your crowd motivated. We research music and keep hundreds on music charts with us to ensure that we are playing the best music at every party. No matter your taste, we will play the music that will keep you and your guests dancing all night.
6. Equipment
Years of experience have helped us invest in the best DJ equipment on the market.  We industry leading brands like Pioneer, Mackie, Numark, American DJ, and other brands that make the best products in their respective categories. A+ DJs invest in the best in order to give or customers the best
7. Professionalism
We pride ourselves on handling ourselves as professionals. We come from a business background and our President is a high school business teacher. Your relationship with a DJ is often much more than just the day of your event, there is a lot of background work that goes into your event for weeks or months leading up to your big day. A+ DJs will answer your phone calls, return messages, send contracts, and live up to all promises that we commit. We will coordinate with your maitre de during your event and treat you and your guests with the proper respect at your event.
Lehigh Valley Weddings Featured Specials
No featured Specials