Laser DJ Company LLC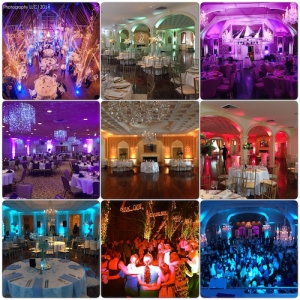 When your event is first class, your sound and lighting also needs to be first class. Don't price shop for entertainment because it will show. This is one of the most important days of your lives, Do it right!! While our experience matches no other, we use and depend on our equipment which also matches no other. Sound and Lighting are one of the most important things that will be remembered as the biggest impression from your wedding. We use some of the highest quality gear available on the market and are constantly surprising the biggest and best clients and venues. Having the right equipment is key to the success of your event. Lighting is an art and sets mood and energy if done properly. Sound quality is also key to and outstanding event. Our sound is so clear you will not only hear but feel every detail. Many packages are available and we also do custom packages to make your event one of a kind. Visit our site at www.LaserDJ.com
Unreal
, 02-21-2013 11:19PM
I cannot even begin to describe how amazing Jon was at our wedding. The lighting, pinspotting, gobo, and the music were OUTSTANDING!!! I recieved compliments from so many people saying that our wedding music was the best they had ever heard! I must completely agree! It is without any hesitation that I would recommend Laser DJ to anyone! Jon was so easy to work with and he kept EVERYONE up and out of their seats all night long dancing. I could not have asked for anything more!
Above & beyond
, 02-21-2013 11:19PM
Laser DJ Company went above and beyond!! Their services took our special day from special to amazing, the lighting, sound, and guest interaction was unmatched. We had a few last minute (literally last minute) changes and their ability to make adjustments just shows how professional and top notch Laser DJ company really is. Their pre-wedding services made us feel like not only did we hire a DJ but a wedding planner as well. Their online pre-wedding program made it so easy to help us plan the timeline of our reception, and their professional suggestions only enhanced our perfect day. Finally most importantly their music selections matched our requests, style and personalities...,they spent the time up front to make our day more amazing than we ever imagined. In our opinion you cannot put a value on how magical Laser DJ made our day!
Perfect
, 02-21-2013 11:17PM
I could not be happier with Laser DJ! Jon was so responsive to all of my emails early on in the planning process. The online planning system made choosing songs a breeze. Laser DJ has all of the latest lighting and equipment, and making the ballroom gorgeous was a main priority for me (second behind the party atmosphere for dancing, which they of course were spot on with!) I could not have even imagined my venue looking more beautiful! I received so many compliments from family, friends, and even people working at the hotel saying how amazing the ballroom looked. The uplighting, pinspots, and custom name gobo were just perfect! As for the music, Jon knew exactly how to get the crowd up and dancing! He also was great at keeping us on schedule and basically let us know when we needed to be where (being introduced, first dance, bouquet toss, etc). From older relatives to young friends, I have heard so many times that this was the best and most fun wedding people had ever been to, and I owe this completely to Jon! Everyone was up and dancing all night. I basically told Jon I wanted a party atmosphere, and he took it from there. I would 100% recommend Laser DJ to everyone!
Lehigh Valley Weddings Featured Specials
No featured Specials