A+ MOJO PHOTO BOOTHS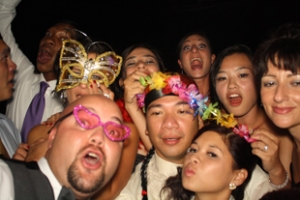 Wedding Packages starting at just $695 The MOJO Booth with the latest in ultra- high resolution digital technology. Our Mojo Booths provide many competitive advantages that make it stand above the competition. The proprietary system leverages professional-grade camera with lab quality photo printers that generate high resolution prints within seconds yet provide long lasting quality so that your memories will last forever. Our 10 person booth is also roomier than traditional photo booths and allows for more creative poses and better pictures with more people!
The LED Light Show inside the booth adds to the 'party' atmosphere inside the booth and helps to create better memories. We have a classy prop box with fun items that get your guests in the mood to take great pictures. The MOJO Booth is simply MORE FUN!!! We are serious about our images. Our booths use professional equipment to produce high quality prints in under a minute! And just like a vintage photo booth we offer four vertical images, with a twist! Your guests can take as many photos as they like, that's right, when we say "unlimited" we mean it! With our rentals everyone wins!
The renter receives a CD of all the photo strips taken throughout the event, the guests will leave with as many strips as they can take, and those unable to attend the event can view images in a password protected on-line gallery! Our booths can be private or PACKED with up to 10 People! All of our rentals include unlimited photo booth sessions. Additionally, all of our sessions include a professional photo booth attendant who will be present during the entire rental period to help your guests maximize their photo booth experience. You can also add a custom message, logo, or graphic on the border of the pictures. Check Photo booth features our Packages Page.
awesome
, 05-24-2013 09:06AM
This was an excellent photo booth we all had lots of fun I totally recommend this for your wedding!
11111
, 05-24-2013 09:04AM
The best photo booth ever
Prom
, 05-24-2013 09:03AM
they do our proms for school and other schools and the photo booths are so funa nd all the accessories they bring are fun. i love MOJO booths!
Lehigh Valley Weddings Featured Specials
No featured Specials